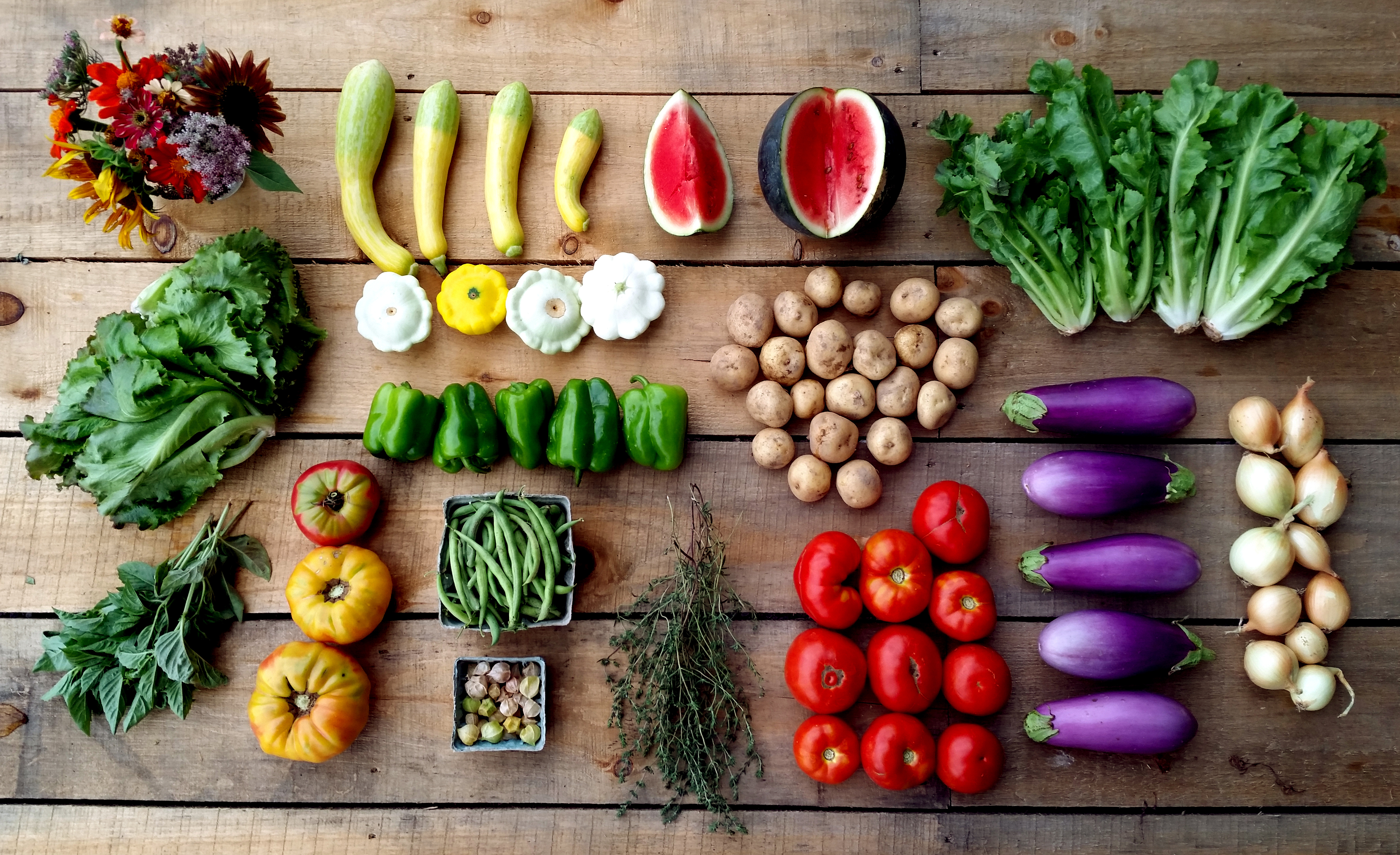 Above: Mud Creek Farm CSA August 2017 full share by Ruth Blackwell
Dear Friends,
We are writing to you from the Peacework CSA core group to share news that is both sad and exciting. The new farmers of the land, equipment and buildings that we have known as Peacework Farm are going in a fresh direction: changing the farm's name, creating their own CSA, and choosing not to distribute at Abundance Coop.
Many of us value highly our co-op to co-op relationship with Abundance; so, while we celebrate the expansion of CSA opportunities in our region, we have decided to continue our Peacework CSA as the cooperative buying club we have been for 29 years and keep on distributing farm shares at the store. The produce will come from a different farm - Mud Creek, headed up by farmer Ruth Blackwell who worked for Peacework Farm for four years before taking over this farm. We will probably also buy a few items from other organic farms in the area as we always have.
While not certified organic, Mud Creek Farm has taken the NOFA-NY Farmers Pledge, and also endorses the CSA Charter. Mud Creek is in Victor, only a 25 minute drive from Rochester, and offers members of their CSA u-pick herbs, flowers, cherry tomatoes and peas. For half shares, Mud Creek offers pick up every OTHER week.  You can also purchase a half share by sharing a share with another member and that way you get vegetables every week. The Mud Creek Farm CSA fee has a sliding scale and Mud Creek members can qualify for the NOFA-NY Neighborhood Farm Share subsidies. There are workdays and parties at the farm as well.
 
Peacework CSA will be focused on facilitating distribution at Abundance for our members who sign up for Mud Creek CSA farm shares and hopefully many of the other local special items that we have enjoyed before. More detailed information about the logistics of this will be coming soon.
 
For more information and to sign up, go to http://www.mudcreekfarm.com/, where there is information specific to Peacework CSA members and Abundance pickup. We encourage members to consider signing up for next year's CSA share as early as possible as there are limited shares for 2018, as well as to help the farmers make necessary planning decisions over the winter months. The Peacework CSA website will be a source of information as it is made available, and there is a new Facebook page as well. If you would like to learn more about the core group decision to buy shares from Mud Creek, please see this letter from the core. We are sad to leave our old farm, but excited to invite you to continue with us in this new phase of our life as a cooperative venture to connect Rochester area people with local, organically produced food - healthy for us and for the spinning earth we live on together.
 
In solidarity,
The Peacework CSA Core